Late Period 晚期
In the Ming, the production of jade artifacts increased greatly along with the booming hand craft industry and related commercial trade. Accordingly, jade artifacts became more popular. Taoism was popularized. Designs with symbols of luck and prosperity were most common.
Ming symbols of good luck included the Eight Immortals 八仙, characters for longevity 寿 and happiness 喜, peach, lingzhi 灵芝, deer, crane, and mandarin ducks.
Deers symbolize longevity and are, supposedly, the only animals able to find lingzhi 灵芝, a fungus known for longevity in Chinese tradition. Horns of deer are puverized and made into medicinal pills.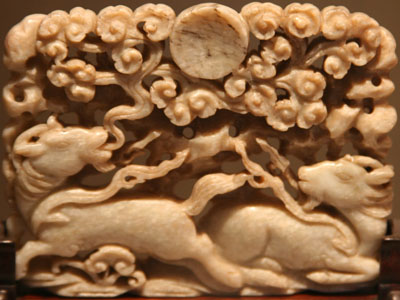 The ornament below has a chi and phoenix design. A chi 螭 can be described as a serpent or a kind of dragon with no horns.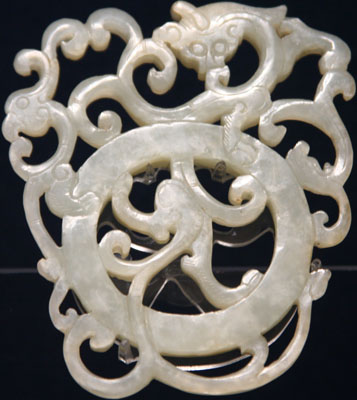 The flower and plant designs 花卉纹 in the are popular in other mediums as well, especially porcelain. The pendant below was discovered in a Jin Dynasty tomb in the Fangshan District, Beijing.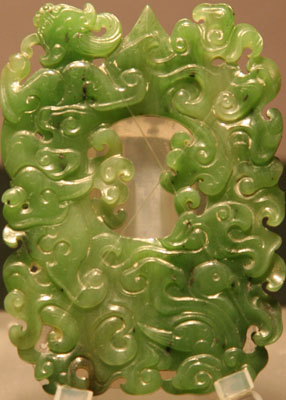 A ruyi 如意 is a curved ceremonial object similar to a sceptre that symbolizes power and good fortune. Ruyi may be originated in India and been transmitted to China with Buddhism. The ruyi below has three pieces of white jade inlaid into the wood sceptre.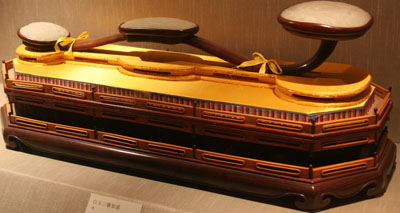 Snuff bottles 鼻烟壶 with delicate carved designs are relatively common Chinese antiques. The picture below shows an agate snuff bottle.