Decorative Designs in Chinese Art 中国文物的纹饰
Jade 玉 Xia Dynasty to Zhou Dynasty 夏至周
Xia Dynasty to Zhou Dynasty 夏至周
Jade funerary masks 幎目缀玉 were relatively common for early Chinese rulers. People of the time believed that jade had special powers that protected the body. Some rulers even had entire jade burial suits 玉衣. The picture below shows a jade funerary mask from the Late Western Zhou.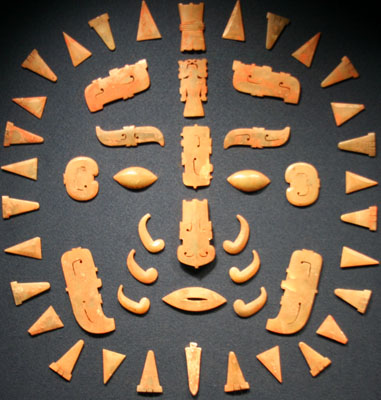 Later, the designs on jade artifacts were similar to designs on other artifacts but usually smaller in size and more refined. The dragon and phoenix design on the ornament below from the Spring and Autumn Period resembles bronze ware from the same period.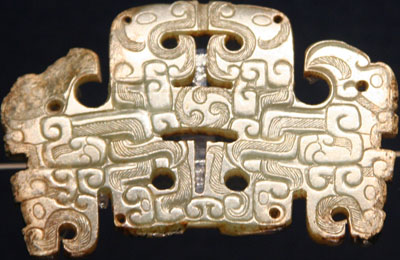 In ancient times bi 璧 (a jade disc) had a very high value. There is a story about a very valuable bi in the Warring States Period described in the book Records of the Historian by Sima Qian 司马迁史记, written circa 100 BCE. The King of Qin offered the King of Zhao 15 cities in exchange for the bi. The King of Qin intended to cheat the King of Zhao but a Zhao official Lin Xiangru outsmarted the King of Qin. The bi shown below is from the Warring States Period.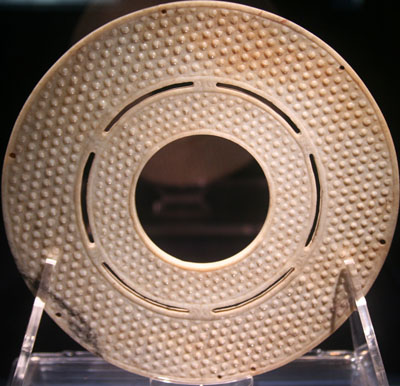 A peck 斗 is an old measure of grain and has a number of symbolic meanings, one of them being justice. The grain design in the jade ornaments below may related to that.

A huang 璜 is an arc-shaped jade pendant. The huang below from the Warring States Period has a grain pattern.

The frog in the jade artifact below is an interesting choice for a belt buckle. Frogs are not common in Chinese symbolism.