Chinese Notes
Tang Poetry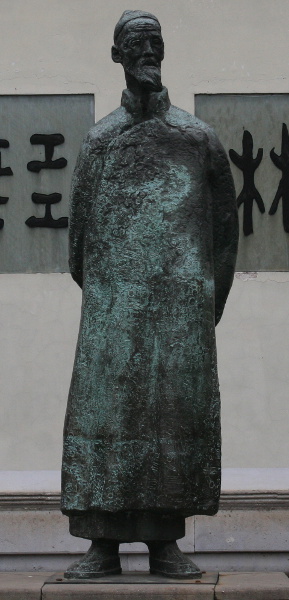 The Chinese text for these poems can be found in the Complete Tang Poems 全唐詩. This is a collection of Tang poetry commissioned in 1705 by the Imperial Court (Idema and Haft, 1997, p. 50). See References for details.
Chen Zi'ang 陳子昂 (661 - 702)
Song on Ascending the Youzhou Terrace 登幽州台歌
He Zhizhang 賀知章(659-744)
Random Lines on Home-Coming 回鄉偶書
Wang Zhihuan 王之渙(688-742)
Ascending the Stork Tower 登鸛雀樓
Liang County Song 涼州詩
Meng Haoran 孟浩然(689-740)
Wang Wei 王維(701-761)
Bidding Adieu to a Friend 送別
Clear Stream 青溪
Luanjia Rapids 欒家瀨
Bamboo Grove Cabin 竹里館
Bird-Chirping Hollow 鳥鳴澗
Lines 雜詩
Smallholders' Homes by the Wei River 渭川田家

Li Bai 李白(701-762)
Crows Croaking at Dusk 烏夜啼
A Tune of Crows Roosting Before the Eve 烏栖曲

---
Copyright Fo Guang Shan Nan Tien Institute 佛光山南天大學 2013-2015, www.nantien.edu.au. This work is licensed under a Creative Commons Attribution 4.0 International License. See About. Please send comments to alex@chinesenotes.com.
This page was last updated on August 27, 2015.